Maximize Your Work Space
Built to last and designed for customization, the Apollo mobile workstation is the perfect solution for professionals who need a spacious and sturdy workspace that can be tailored to meet their specific production demands.
Hinged X-Top Shelf

The ergonomic four-sided top shelf design of the Apollo includes a fold-down side for easy and comfortable keyboard access.

Corner Mold Lock-System

Free up your work surface with four Corner Accessory Mounts compatible with our Monitor Mounting, Mast, and Baby Pin Systems.

Integrated ThreadedRail Plates

With a variety of 1/4"-20 and 3/8"-16 holes, the Apollo top shelf offers plenty of accessory mounting options to help you customize your setup.

Foot Brake System

Offering easier access and stronger stopping capabilities than traditional caster brakes, you'll feel confident and secure in any workspace.

Travel Friendly

With our tool-free design, you can pack and lock it down easily using the integrated Pack Latch System. And when you're on the go, the integrated Skate Wheels make transporting it in case-mode a breeze.

Premium EVO Wheels

Experience a smooth and quiet ride with pneumatic wheels, featuring 100% sealed bearings. Assembling and packing is made easy thanks to the quick release dovetail.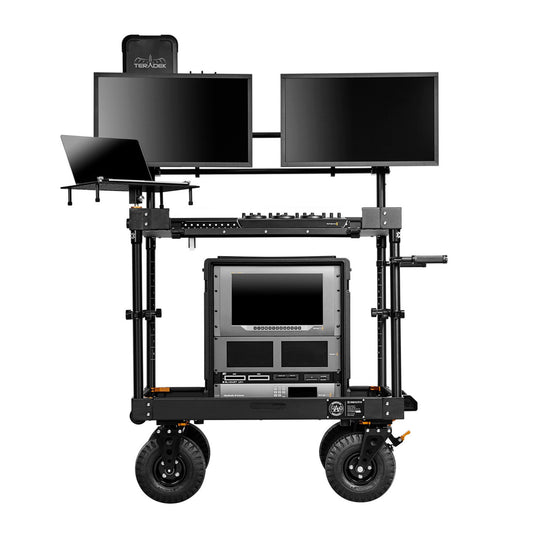 Unmatched Strength
and Durability
The Apollo's internal main-frame system on the bottom shelf ensures excellent workstation stability and maximizes payload capacity, supporting payloads up to 1,200 pounds. The hemmed construction on both the top and bottom shelves provides reinforced support. With the Apollo, you can confidently carry even the heaviest equipment without any worries about stability, making it the perfect companion for demanding work environments.
Features & Specifications
A table comparing the features of 1 products

Product Options

Product Options
Apollo 40, Apollo 52

Work Surface Height

Work Surface Height
40.5 in.

Total Height

Total Height
43.25 in.

Weight Apollo 40

Weight Apollo 40
102 Ib

Weight Apollo 52

Weight Apollo 52
115 Ib

Payload Capacity

Payload Capacity
1200 Ib