A Mobile Rack-Mount Workstation
The Deploy is a mobile workstation with up to 16U of vertical rack-mount space. Ideal for both studio and on-location use, the Deploy is fit for travel with INOVATIV's EVO Wheel System on the front and 20 in. traction wheels in the rear. Integrated accessory mounts in several places allow the user to further customize their workstation. Deploy is a universal solution for safely and securely transporting rack mount gear.
16U of Rack Space

Designed to securely store up to 16U of rack mounted equipment. The open frame allows for access from both front and back for a streamlined workflow.

Compact Design

At 21 in. wide, Deploy is the leanest INOVATIV workstation. Easily maneuver through doorways and tight spaces without sacrificing storage or quality.

Expandable Work Surface

Tabletop height of 42.5 in. provides a comfortable standing station. Total working surface expands from 21.125 in. to 45.125 in. with side wings extended.

Integrated accessory Mounting

The redesigned rivnut frame design features several 3/8-16 threaded mounting holes, Rear Accessory Mounts, and Center Mast Bracket for accessories.

EVO Wheel System and Brakes

Our proprietary wheel and bearing system allow you to navigate through any terrain. Foot breaks ensure workflow will stay (or go) where you need.

Secure Storage

Keep personal items safe with our 
combo locking drawer. Lined with premium marine carpet and rated for 
up to 100 lbs of gear.
Transport your Workflow
Despite featuring the smallest footprint of all our carts, the Deploy doesn't sacrifice utility or space. Deploy's 16U rack mount gives you the capacity needed to maximize your onset workflow and can be separated into two smaller 8U sections when transportation in smaller vehicles is desired.
Expand Your Work Surface
Need to easily maneuver through hallways, doorways, and other tight spaces? The Deploy working surface expands to 45.125 in. when you need it most and reduces to 21.125 in. when tight maneuvering is required.
Side Wings Collapsed

Side Wings Extended
Features & Specifications
A table comparing the features of 1 products

Assembled Dimensions

Assembled Dimensions
35 in. L x 27.5 in. W x 42.5 in. H

Top Surface, Side Wings Collapsed

Top Surface, Side Wings Collapsed
21.25 in. L x 21.125 in. W

Top Working Surface, Side Wings Extended

Top Working Surface, Side Wings Extended
21.25 in. L x 45.125 in. W

Rack Dimensions (Top Half)

Rack Dimensions (Top Half)
21.00 in. L x 19.00 in. W x 14.00 in. H

Rack Dimensions (Bottom Half)

Rack Dimensions (Bottom Half)
21.00 in. L x 19.00 in. W x 14.00 in. H

Deploy Weight

Deploy Weight
102 lb

Payload Capacity

Payload Capacity
600 lb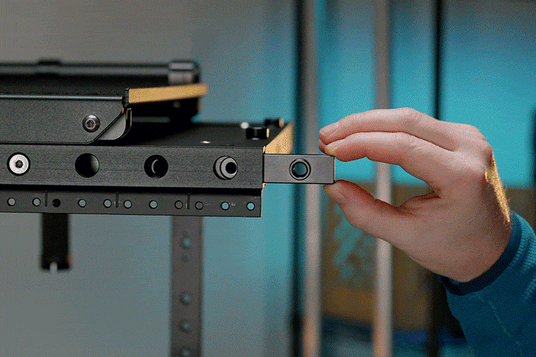 Rack and Frame
10/32 Tapped Steel Rack-Rail

16U of Standard 19 in. Rack Space, 21 in. Depth

(38) Integrated and Replaceable 3/8-16 Threaded Mounting Holes