All Your Gear in One Place
The DigiSystem provides an all-in-one solution for streamlining laptop workflows in a sleek, durable, and portable package. With multiple mounting points and customizable accessories, DigiSystem allows for a personalized workflow tailored to your unique needs.
Digi Components

Choose from a selection of accessories to customize your workflow, from harddrive clamps to quick release base plates.

Universal Compatibility

The DigiPlate is compatible with laptops up to 16 in., making it a versatile solution for various workflows and setups.

Accessory Management

The DigiPlate features a durable integrated carrying handle and 161 threaded holes to mount your digital accessories, while cable management holes keep your workspace clean and organized.

Rigid Construction

Constructed with high-quality 6061 T6 aluminum, the DigiPlate offers a lightweight and sturdy foundation for your digital workflow.

Industry-Standard Mounting Options

Industry-standard 5/8 in. Baby Pin and mid-sized professional tripod compatibility, users can easily integrate the DigiSystem into any production workflow.

Durable DigiCase Pro

The 1535 Digicase Pro offers rugged protection and consolidates the DigiSystem into a travel-ready case.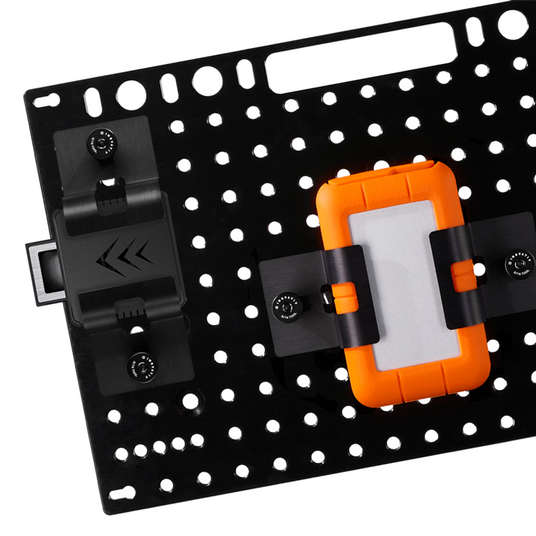 One System, Endless Configurations
The DigiSystem provides versatile solutions for a wide range of professional disciplines. With our extensive range of customizable accessories, you can configure your laptop system to meet the unique demands of your workflow. Our modular approach lets you pick and choose the components you need or select a pre-made kit for a hassle-free setup. Whether you need a tabletop setup for editing or a tripod for tethering, we got you covered. Plus, with options for on-the-go workflows, the DigiSystem can adapt to your location and travel needs as well.
A table comparing the features of 4 products

Facet

DigiSystem 1535 Pro Ultra Kit

View details

DigiSystem Pro DigiTech Kit

View details

DigiSystem Lite Kit

View details

DigiSystem Pro Kit

View details

Price

Price

Description

Description

The 1535 Pro Ultra Kit is the ultimate portable and durable digital workstation, featuring our essential DigiSystem products.

The Pro DigiTech Kit brings together our most popular DigiSystem products, offering a comprehensive solution for various laptop workflows.

This kit offers a lightweight solution for on-location tethering needs. Whether mounted to a rolling stand, C-Stand, tripod, or packed in a backpack, it provides a highly efficient and compact workstation.

The Pro Kit is a streamlined DigiSystems package centered around our DigiPlate Pro, providing all the essential components for building your portable laptop tethering workstation.