Unparalleled Breaking Power and Precision Control
The Echo with Hydraulic Brake System* is a semi-collapsible workstation with a reinforced mainframe, permanent wheels for securely transporting sensitive equipment. The Echo is the perfect solution for studio, location, and corporate campus workflows that require mobility and organization.
Ergonomic Keyboard Top Shelf

The three-sided design of the Echo top shelf makes accessing your keyboard as comfortable as working from home.

Dual Combination Locking Drawers

Drawers with combination locks securely located under both the top and bottom shelves keep workflow essential items organized and secure.

Height Adjustable Top Shelf

Our SLAS system enables users to adjust their workstation height, ranging from the lowest setting of 38.25 in. to a maximum height of 48.25 in.

Permanently Attached EVO Wheel System

Our pneumatic wheels are securely bolted to the lower work shelf for optimal stability. With 100% sealed bearings, you're in for a smooth and quiet ride.

Hydraulic Brake System

Choose an Echo model equipped with our proprietary Hydraulic Brake System, delivering precise braking performance even at maximum payload capacity.

Foot Brake System

Ergonomic foot brakes come standard, are easily accessible, and offer stronger stopping power compared to brakes used on traditional casters.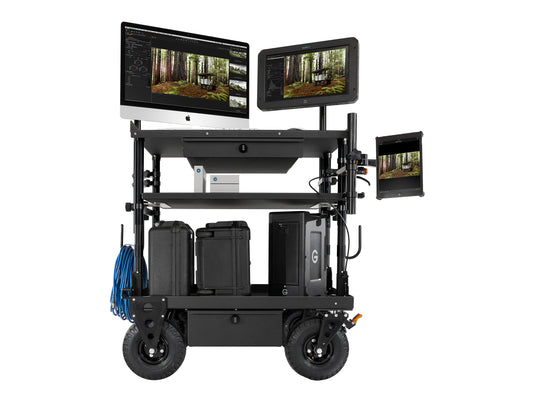 Confidence
on Wheels
TheEcho mobile workstation is designed to reduce risks and raise confidence when transporting your equipment, even inchallengingenvironments. With its precise control and stable construction, the Echo provides a reliable foundation for your workflow, helping you navigate rugged terrain and reduce the chances of damage to your valuable gear. Trust the Echo to safely transport your payload and minimize disruptions to your work.
Features & Specifications
*options available without Hydraulic Brake System