Workflow in Motion
The Voyager mobile workstation provides a secure and adaptable workspace that can be conveniently collapsed and transported to any location. With a lightweight yet durable construction and customizable features, the Voyager is the perfect solution for a flexible workspace that can adapt to any environment.
Travel Friendly

With our tool-free design, you can pack and lock it down easily using the integrated Pack Latch System. And when you're on the go, the integrated Skate Wheels make transporting it in case-mode a breeze.

Foot Brake System

Offering easier access and stronger stopping capabilities than traditional caster brakes, you'll feel confident and secure in any workspace.

Integrated Threaded Rail Plates

With a variety of 1/4"-20 and 3/8"-16 holes, the Voyager EVO X top shelf offers plenty of accessory mounting options to help you customize your setup.
A Voyager for every destination.
Meet the Voyager EVO X and Voyager NXT. We've created two travel friendly mobile workstations to meet the unique demands of your production, and personal preferences.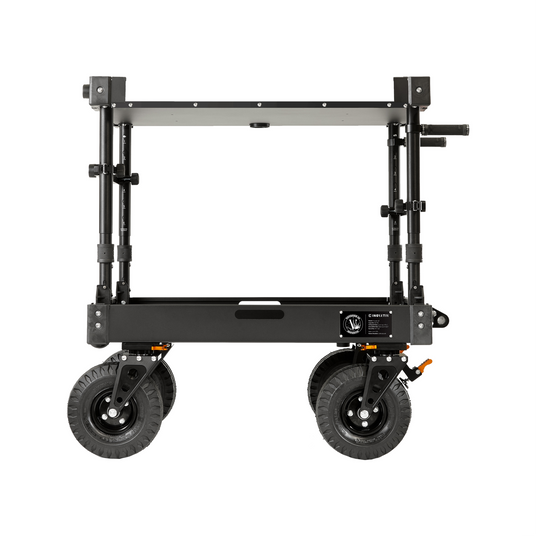 Voyager EVO X
X-Top Shelf 
The four-sided design of the Voyager EVO X top shelf features one removable side for  comfortable keyboard access.
Height Adjustable Top Shelf
Our SLAS system enables users to adjust their workstation height, ranging from the lowest wrist height setting of 38 in. to a maximum height of 48 in.
Premium EVO Wheels
Experience a smooth and quiet ride with pneumatic wheels, featuring 100% sealed bearings. Assembling and packing is made easy thanks to the quick release dovetail.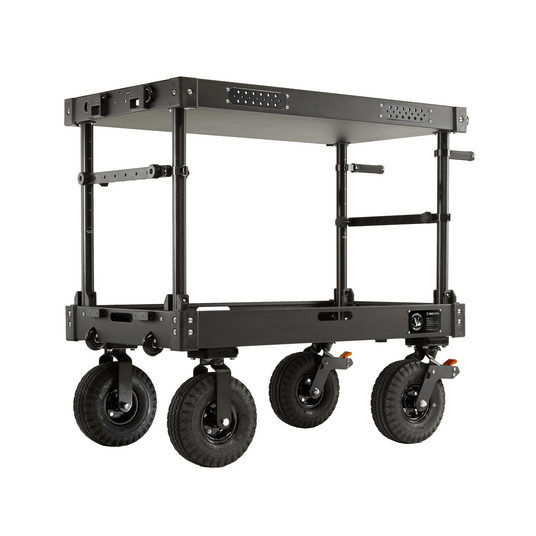 Voyager NXT
4-Sided Top Shelf
Enjoy peace of mind with the Voyager NXT top shelf's four-sided design, which keeps items securely in place.
Fixed Height Top Shelf
The Fixed Height Top Shelf provides a stable platform for all your equipment.
10 in. Wheel System
Experience unparalleled stability thanks to the Voyager NXT's heavy-duty steel castor. The larger wheel size and convenient footbrake, further enhances its stability.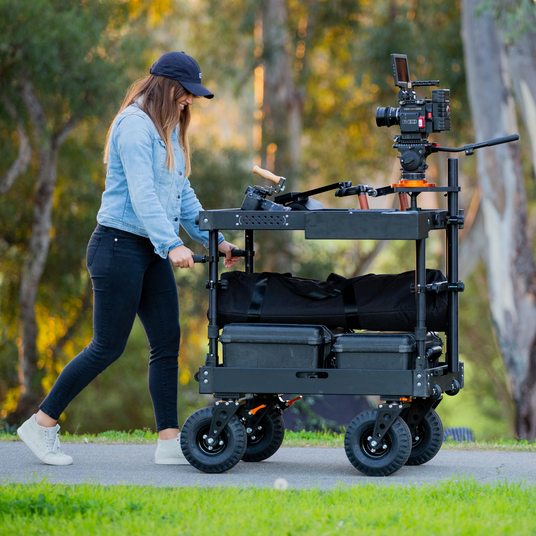 On-the-Go Performance Powerhouse
With its small footprint and lightweight design, it's easy to take the Voyager anywhere you go. But don't let its size fool you, the Voyager is a powerhouse of versatility, able to support a wide range of accessories and configurations to meet the needs of any profession. Whether you're a photographer, videographer, or beyond, the Voyager is the perfect solution for those who demand the best in portability and performance.
Features & Specifications
A table comparing the features of 2 products

Title

Title
Voyager EVO X
Voyager NXT

Product variants

Product variants
Workstation Size

Voyager 30 EVO X,
Voyager 36 EVO X,
Voyager 42 EVO X

Workstation Size

Voyager 36 NXT,
Voyager 42 NXT

Work Surface Height

Work Surface Height

37.25 in. to 38.25 in.

38.75 in.

Height Between Shelves

Height Between Shelves

25 in. to 35 in.

25 in.

Payload Capacity

Payload Capacity

400 lb or 600 lb

600 lb
---
Voyager EVO X - Voyager 30 EVO X is backordered and will ship as soon as it is back in stock.
---
Voyager NXT - Voyager 36 NXT is backordered and will ship as soon as it is back in stock.